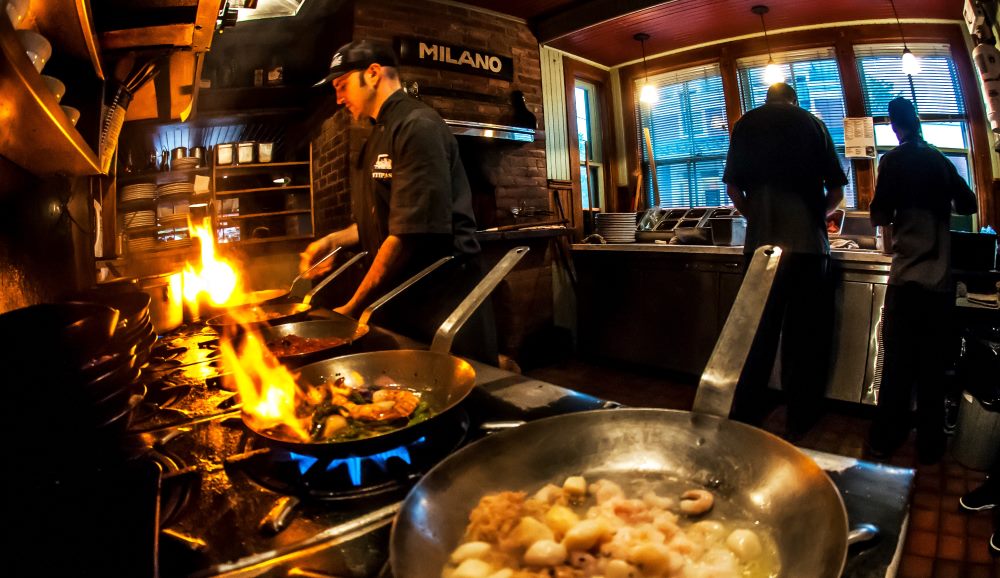 An authentic wood-burning oven for remarkable pizzas
At Antipasto, the handsome red brick wood-burning oven holds centre stage in the middle of the kitchen. The warmth and aromas that emanate from it spread throughout the rooms and invite guests to relax and enjoy themselves.
In addition to pizzas and pasta, the house specialty is veal cutlet, served with a variety of delicious sauces. Our regulars might suggest you try our popular scallops and oyster mushrooms or our great pizzas, fresh from our wood ovens. Our wine list offers a wide selection of Italian wines: the usual ones, private imports, "Great wines of Tuscany" and others.
Since 1984 Antipasto bar, terrace & restaurant is located in the heart of Mont-Tremblant's centre-town, previously known as Saint-Jovite.
The more, the merrier !
Are you looking for a warm and inviting reception room in which to entertain a group for a birthday,business lunch, dinner-cocktail reception or any other event? We would be delighted to accommodate you in one of our reception rooms, whatever your needs. Don't hesitate to contact us to discuss your projects; we would love to help you work out all the details.
In 1987, the Saint-Jovite train station was sold and relocated to Saint-Jovite's centre-town. Mr. George Kelegher, a well-known antique dealer, undertook the renovation and redecoration of the station, taking great pains to preserve its authenticity. In June of 1988, artist Pierre Hardy painted a magnificent mural on the facing wall, transporting its viewers to the P'tit Train du Nord experience of the 1930s.
Antipasto restaurant, which had been operating on rue St-George since 1984, then moved into the train station. It reopened its doors on June 30th, 1988, allowing this Canadian Pacific Railway building to find again its true vocation, that of welcoming visitors and locals to the town centre.
In 2014, it is with great pride that all restaurant Antipasto team, will celebrate the 30th anniversary of this great adventure. Come celebrate with us throughout the year!