La Forge Bistro-Bar & Grill
Location: Tremblant Resort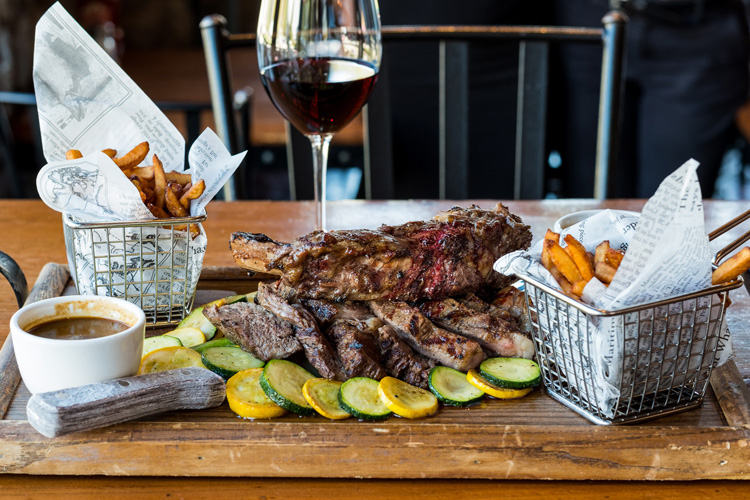 The Forge Bistro-Bar, on the first floor, is the perfect place for trendy après-ski or for a meal with friends or family.
The atmosphere is welcoming and the bar is right in the middle of the big room, from which you can admire the mountain and ski slopes on one side and on the other, Place St-Bernard in the centre of Tremblant's pedestrian village. Discover a delicious seasonal meal and a wide selection of wines, beers and spirits. Enjoy a superb terrace during the summer season.
La Forge Grill, Steakhouse, on the second floor, offers the best wood-grilled specialties in Mont-Tremblant. The Certified Angus Beef, perfectly aged, offers superior marbling, which gives it outstanding flavour. Our maple-wood grill also ensures that the meat is perfectly cooked and that each cut of beef smells fantastic!
Whether your taste runs to huge cuts with a pronounced flavour, like our 40-oz. cowboy steaks, or the finesse and divine texture of a filet mignon, our savoir-faire ensures that we can satisfy the most demanding beef lovers! Considering its professional sommelier service and its wide selection of cognacs, scotches, and eaux-de-vie, it's not surprising that La Forge has won repeated honours, particularly for the bounty of its wine list.
La Forge restaurant – a multiple award winner for its wine list
Prix d'Excellence from Wine Spectator since 2003
A word from sommelier François Raby.
We always seek new experiences and are eager for discoveries. Wine is the perfect intermediary for meeting, sharing and exchanging.
Traveling, tasting or simply enjoying being among friends increases our chances of experiencing an unforgettable moment that could change our destiny.
My concept of service is based on a fair exchange of values: to the extent that there is joy, there will be pleasure!
In another era, the forge was for many a synonym for a warm, welcoming place. Here in the Laurentians, as well as being a meeting place for the villagers, the forges had another role. They were also the first ski shops.
According to Mr. Théodule Huot, whose nickname was Titi ‒ poet, painter and expert skier from the Laurentians who also became a member of the Skiing Hall of Fame ‒ the forge was the place where knowledgeable skiers went to have their skis repaired and where, for the modest sum of ten cents, they could also have them waxed.
It was also the place where, dry and toasty before a warm fire, skiers liked to tell stories of the day's exploits…like the cheery co-conspirators they were. It was in this way that a number of ski legends were born….
Today, in memory of the era, La Forge welcomes you in a warm ambience which, we hope, will witness the birth of many new legends.

The Bistro-Bar offers a full service for the organization of any kind of party or group event.
Full personalized coordination service for your event
Staff that provides attentive service
80-seat capacity.
Ideal configuration for cocktail receptions
Wide choice of cocktails, and other beverages.
Build your group menu from the "à la carte" menu and get a group price.
Sommelier service available.
Your group menu can be printed with your company logo.
The space is perfectly suited to live music groups or themed events.
Contact the sales group by phone at (819) 681-3000 ext. 44911 or by email at [email protected].
Contact La Forge Bistro-Bar & Grill